Outback Queensland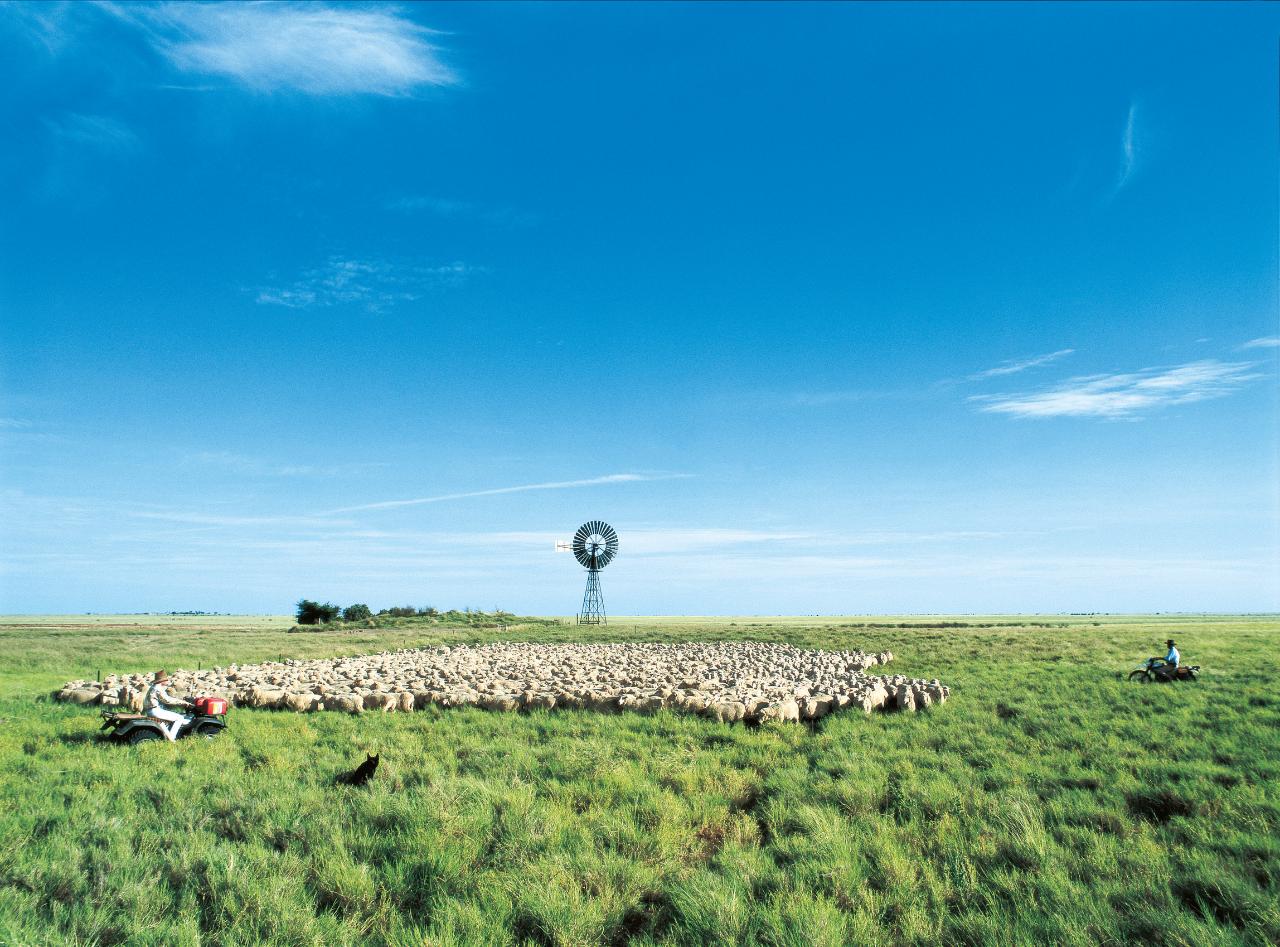 Duration: 12 Days (approx.)
Location: Barcaldine, QLD
Product code: OUTQ21
Join Libby Cameron in outback Queensland and discover a uniquely Australian way of life. Visit Longreach, Winton, Birdsville. Under big blue skies, be inspired by our pioneers, see ancient Waddi Trees, where dinosaurs roamed, visit working stations, stroll homestead gardens.

DAY 1 TUE 14 SEP
HOME TO BARCALDINE
Meet your Ross Tour Leader at Sydney Airport. Fly to Barcaldine via Brisbane to commence your Outback Queensland adventure. Meet up with your comfortable touring coach and driver for a tour of Barcaldine, home to the Tree of Knowledge and the reputed birthplace of the labour movement in Australia.
This afternoon, visit Kyneton, a cattle station with a "cocoon" garden providing respite from the drought that has devastated so many cattle properties. Jocelyn and John Chandler have spent the past 25 years developing this garden. "We now sit on our veranda and look through white trunks of melaleuca, across beds of lilies and roses, and the lake to the bloodwoods beyond".

DAY 2 WED 15 SEP
BARCALDINE TO CHARLEVILLE
Travel south today to Charleville via a visit to a town garden at Blackall.
Stop in Tambo, on the banks of the Barcoo. Home of the 100% woollen sheepskin Tambo Teddies. Gazetted in 1863, Tambo is the oldest town in the west. We will wander along the Heritage Walk visiting the town's historical buildings. The Coolibah Walk follows the banks of the Barcoo where the native trees reach out across the river and provide a cool haven for the birdlife. Afternoon drive through to Charleville. Check into your hotel with dinner included this evening.
DAY 3 THU 16 SEP
CHARLEVILLE
Charleville is in the heart of Queensland's 'mulga country', rich in history, flora and fauna. It was home to Cobb and Co back in 1890.
Morning tour of this historic town with a stop for morning tea at Sommariva Olives where they grow table olives and process olives for cold-pressed oil.
Lunch stop at the native gardens at Lass O'Gowrie Station, an oasis set upon a hard Mulga Ridge.
Evening visit to Cosmos Centre where the observatory opens to reveal a crystal clear sky. Learn about the celestial landscape that you will see through the powerful telescope.
Dinner included this evening.
DAY 4 FRI 17 SEP
CHARLEVILLE TO WINDORAH
Travel to Windorah via Quilpie. Lunch today at Moble Homestead, hosted by The Rutledge family whose descendants settled in the Quilpie district in 1914 and it has remained their home for five generations. Moble Station is dissected by Moble Creek, first recorded in Mary Durack's famous 'Kings in Grass Castles'. Traces of the Durack Costello Camp is still evident on the Moble Creek. Follow the flood plain of the Thomson River into Windora overnight, the heart of the Channel Country and the headwaters of Cooper Creek. This junction of the Thomson and Barcoo Rivers, called Cooper Creek, is a wetland haven for birds. This is 'sandhill country' with dramatic red sand dunes surrounding the town. If there is winter rain we will see lots of ephemeral wildflowers.

DAY 5 SAT 18 SEP
WINDORAH TO BIRDSVILLE
Another day of huge skies and dramatic red desert landscape as we travel to Birdsville. First stop is Deons Lookout with panoramic views of the gibber plains and desert landscape. Lunch stop in Betoota, once a busy meeting point for pastoralists and drovers, and a Cobb and Co change station, now a ghost town. Another stop this afternoon to understand the significance of the 'Dreamtime Artwork', one of three sculptures in the Diamantina Shire designed by members of the Wangkangurru/ Yarluyandi tribe. This work represents a series of pathways travelled through Country to connect the river systems in the Channel Country of the Diamantina Shire. See the creative application of locally sourced gravel and gibbers in this hillside artwork.
DAY 6 SUN 19 SEP
BIRDSVILLE
Explore this isolated frontier town today. See the famous Birdsville Race Track and 'Big Red', a 40 metre sand dune marking the symbolic eastern edge of the Simpson Desert.

DAY 7 MON 20 SEP
BIRDSVILLE TO BOULIA
Head north along the eastern edge of the Simpson Desert to Boulia. Stop to see rare and ancient Waddi Trees, considered to be 500-1000 years old, and one of only three such groups of Waddi Trees left in Australia.
This afternoon in Boulia, visit the Min Min Encounter, a tribute to the famous Min Min Light phenomenon. Visit The Heritage Complex, home to 100 million-year-old fossils of marine reptiles which were abundant in this area when it was an inland sea. Boulia boasts a Plesiosaur fossil which is 80% complete and is among the world's best discoveries.
When Boulia resident James Edwards Jones built his home in 1888, little did he know that it would become part of the Heritage Complex it is today with farm machinery, Indigenous artefacts, early pioneer history and fossils.

DAY 8 TUE 21 SEP
BOULIA TO WINTON
A spectacularly scenic drive to Winton via Cawnpore Lookout to view the stark flat-topped mesas of the surrounding Lillyvale Hills. Lunch stop in historic Middleton Hotel, built during the Cobb & Co. era. It was originally a changing station where tired horses were replaced with fresh horses on the Winton to Boulia route. Visit Australian Age of Dinosaurs, perched high on a spectacular mesa with a guided interpretive tour of the laboratory, collection room and Dinosaur Canyon. After an Outback sunset, settle in for a hearty BBQ dinner under the stars.

DAY 9 WED 22 SEP
WINTON TO LONGREACH
Winton to Longreach today with morning visit to the Walzing Matilda Centre in Winton before we leave, dedicated to Banjo' Paterson's famous ballad.
This afternoon we will visit another cool and pleasant outback garden oasis at Darriveen Station. Bougainvillea grows as hedges surrounding the homestead, tumbles over archways, and spills from hanging baskets. Listen to the birds as we wander through the gardens with our hosts, Jan and Tony Hetherington, then enjoy a delicious lunch and unforgettable hospitality.
Check in to your hotel in Longreach with dinner included.


DAY10 THU 23 SEP
LONGREACH
Discover the challenges of working and living on the land from local graziers Bevan and Maree Pearce at Strathmore Station as we drive around the property and lunch at their homestead. Uncover national treasures and stories of the pioneers of aviation at the Qantas Founders Museum.
A sunset cruise on the Thomson River with panoramic views before our farewell dinner and show as darkness falls.
DAY 11 FRI 24 SEP
LONGREACH TO HOME
Discover the inspiring stories of our pioneering heroes at the Australian Stockman's Hall of Fame before homeward flights.